writing
--- short / poetry
--- longer / publication
sound
---
instrumental
---
text-based
performance
--- public projects
---
text-based
other
---
photo / video
---
curatorial
relevant work experience
--- project management
--- teaching / workshops
--- writing / translating
info
--- contact | bio | cv
A Voyage of Discovery
is a factive travelogue of my journey sailing around the Mind; from the Philosophical Starting Port to the Island of Confirmation, via the neighboring Island of Self-Doubt. Captain Kybernetes, my long-time companion and excellent steersman of the HMS Project, guided me through previously known and unchartered territory. Along the way we conversed with scientists, scholars, and other knowledgeable creatures about the ebbs and flows of the Mind's self-corrective mechanisms.
Self-published in an edition of 500, each 44-page publication has its own, unique, full-color copied cover with imagery that was gathered during the journey. The covers are folded around a black and white, mass printed booklet on off-white, biotop paper.
Selected excerpt:
"Before the accomplishment industry colonized the Island of Confirmation, it very much looked like the neighboring island Self-Doubt, which continues to live in a state of treacherous, pure nature. Confirmation sees so little rain that only dry humor cacti and dividivi trees can grow here. Over the years, the predominantly Northeastern wind has blown the ocean tide against the rocks, and carved out deep caves in the northern coastline. Known to the locals as the Coast of Clarity, the steep rocks are both gruff and impressive, and a popular destination for moments of contemplation."
Copies are $9/€7, excluding shipping, please inquire for details.
A Voyage of Discovery
is for sale through
Underbelly

, and available to read in the National Library of Ireland in Dublin, and the Joan Flasch Artists' Book Collection at the School of the Art Institute of Chicago.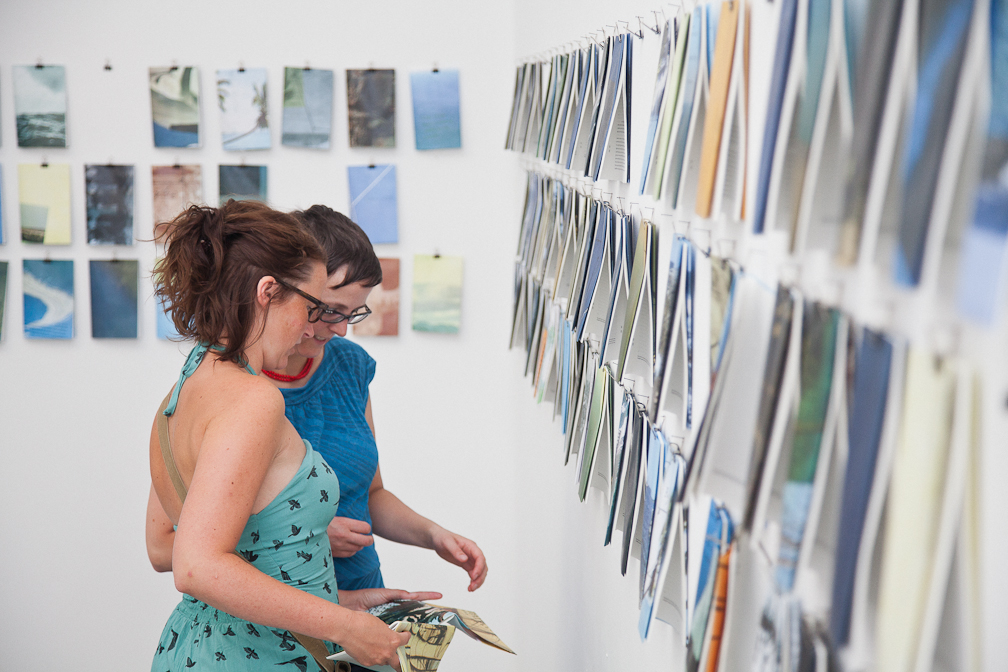 Installation view at Exception Handling, TENT Rotterdam, July 2012. Photo by Janis Klimanovs.